Business advisory services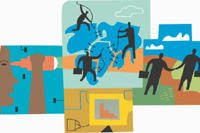 Business in Russia and the CIS is experiencing unparalleled transformation and change. The increasingly competitive environment brings the need to redefine strategies, align organizational structures and business processes, and redesign management information systems that support these changes in the structure.
These changes obviously present both opportunities and risks that need to be managed appropriately in order to maximize the advantages and mitigate the risks.
Depending on a company's stage of development and on prevailing market and regulatory conditions, Expertica can tailor its services to meet individual needs.